Panels provide breast and lung protection without compromising spinal image quality. 0.50mm lead equivalent.

Do You Need a Thyroid Collar, Carry Bag, Cleaner/Sanitizer Sprays, or Storage Rack to go with this apron?


Click here for current 'no fee' fabrics:

Click below to enlarge details of the "Fun & Fashion" Fabric Options. (Use Part# 63495)
"Floral", "Java Jive", Quilt Blocks" and "Hearts"



For "Girl's Best Friend", "Animal Prints", "Tropical", "Dots", and "Pets."


For "Science, Technology", "Camo", "Skulls" and "Ports of Call":



For Ripstops and Antimicrobials: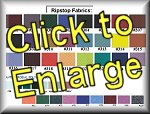 | | | |
| --- | --- | --- |
| Stock # | Type | Your Price |
| 46930 | StarLite | $214.29 |
| 66930 | TrueLite® | $178.57 |
| 60930 | Cost Cruncher | $174.29 |