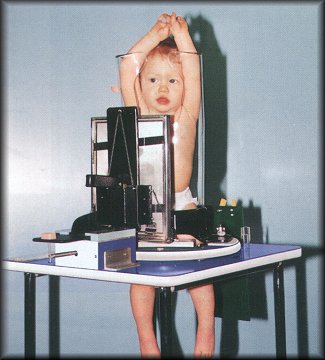 Lead shield has adjustable conventional markers and adjusts up and down for various examinations. Spring balanced cassette holder accommodates any size cassette needed. Device is easily cleaned and sterilized. Should last for years and years with proper care.

Immobilizer is approximately 20" x 22" x 35" (50 cm x 55 cm x 88 cm) in height. Chrome plated table with 3" (7.5 cm) casters, 2 locking. Table top is 3/4" (1.9 cm) birch plywood, aluminum molding.

Now available in digital.
Or upgrade your analog unit to digital. Please call us to see if your unit is compatible.

Note:The Pigg-O-Stat is guaranteed by its inventing manufacturer, Modern Way Immobilizers. While their 99% approval rate by medical experts proves that their equipment is dependable, durable, and long-lasting, they provide a full one year warranty on defective parts.

To ensure the highest quality of workmanship, all devices are inspected prior to distribution. Even though the parts will withstand significant stress and strain for long durations to perform its purpose, the plexiglass parts are not guaranteed against breakage.