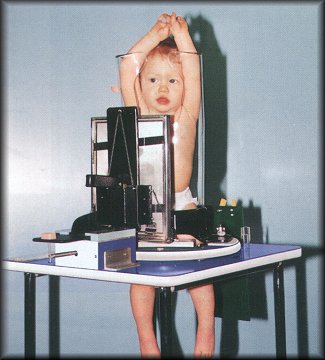 patients from infants to 3-1/2 years of age.

Lead shield has adjustable conventional markers and adjusts up and down for various examinations. Spring balanced cassette holder accommodates any size cassette needed. Device is easily cleaned and sterilized. Should last for years and years with proper care.

Immobilizer is approximately 20" x 22" x 35" (50 cm x 55 cm x 88 cm) in height. Chrome plated table with 3" (7.5 cm) casters, 2 locking. Table top is 3/4" (1.9 cm) birch plywood, aluminum molding.

Now available in digital.
Or upgrade your analog unit to digital. Please call us to see if your unit is compatible.

Note: The manufacturer offers no warranty on these units, but they are guaranteed to be in perfect working condition upon receipt.