| | | |
| --- | --- | --- |
| | IMRT Head and Torso Freepoint Phantom. | |



Complete QA from CT imaging to dose verification

Features


Ionization chambers, TLD, MOSFET and Diodes easily positioned using interchangeable rods

Choose any point dose location by rotating the cylinders
Use radiographic film dosimetry - Ready Pack and/or GafChromic® film
Close placement of detectors to film improves film calibration

CT - film markers ensure accurate film to plan registration
Surfaces are etched with indices for precise alignment
Configure with or without heterogeneities

CIRS offers a variety of IMRT phantoms to match the most common IMRT treatment areas such as prostate, head and neck, breast and lung.

All CIRS IMRT Phantoms are manufactured from proprietary materials that faithfully mimic water, bone and lung within 1% from 50 keV to 25 MeV. These unique materials eliminate the need for correction factors, thus improving accuracy and saving time. The phantoms simulate the patient through the entire process from CT data acquisition and planning to delivery and dose verification.

The new Model H9K was designed in collaboration with David D. Loshek PhD. With the H9K, choose any point dose location


within a circular area with diameter of 11.2 cm by simply adjusting the two rotating cylinders. Lung and bone equivalent rods can be positioned at any location within the circular area for assessment of heterogeneity correction. Remove the center cylinder from the phantom body to simulate head and neck set-ups.

Model 002H9K Includes:


1) Water equivalent homogeneous torso section with cylindrical inserts (15 cm)
2) Spacer slabs, 2 cm
1) Spacer slab, 1 cm
1) Spacer slab, 10 cm
1) Water equivalent rod insert with ion chamber cavity
1) Bone equivalent rod insert with ion chamber cavity
4) Water equivalent solid rod inserts
1) Bone equivalent solid rod insert
1) Set of CT to film fiducial markers
1) Alignment base
1) Holding device



Click Here to download ION Chamber Cavity Codes for Dosimetric Phantoms.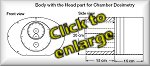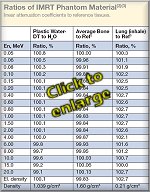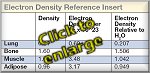 Stock #

Description

Your Price

002H9K-CV

IMRT Head & Torso Freepoint Phantom
(CV=CIRS Cavity Code Specify Ion Chamber)

$7,741.87
---
Please Note: All

offices will be closed Thursday & Friday, December 25th & 26th, 2014

for the extended Christmas Day Holiday weekend.
We will re-open, at 8am Pacific Standard Time, Monday, December 29th, 2014. Have a safe and happy holiday!
For order methods and policies, please click here.





E-Mail Sales

Telephone




Phone Lines open...

8am - 5pm Monday-Friday (Pacific/West Coast Time)

Toll-Free (US): 800-827-XRAY (800-827-9729)
Toll-Free (US): 866-PNW-XRAY (866-769-9729)
Skype: pnwxray
Phone: 1-503-667-3000

Download our order form
and then...Fax Your Order
24 Hours a day!
1-503-666-8855




P.O. Box 625 * Gresham, OR 97030 * U.S.A.
This web site is our catalog, no printed catalog is available. - Please keep checking back, changes to this site are made daily.
Every effort is made on our part to keep all posted prices up to date, however we can not guarantee the accuracy due to notification delays by the manufacturers.
Purchase Orders accepted only upon approval of credit - Min. $500 opening order for new open CHARGE accounts.
All other orders (Cash, Credit Card, etc) subject only to a $30 product minimum order!




©1997-2014 Pacific Northwest X-Ray Inc. - Sales & Marketing Division - All Rights Reserved