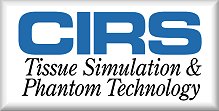 CIRS fetal phantoms provide a realistic high quality imaging model for 2D and 3D ultrasound applications. They are designed for 3D reconstructions, and ultrasound scanning demonstrations.

Phantoms offer a stress-free user environment and are low cost, and durable. Realistic standards make them ideal for developing basic sonography skills.

Both training models include a tissue equivalent full fetal model suspended in a non-echoic, amniotic fluid-like environment. Fetal training phantoms are available in 20 and 36 week versions.

Materials:

Housing: PVC, ABS, Vinyl.
Phantom: Proprietary gels.



Background Medium:

Attenuation: 0.2dB/cm-MHz
Speed of sound: 1515m/s
Contrast: Anechoic.