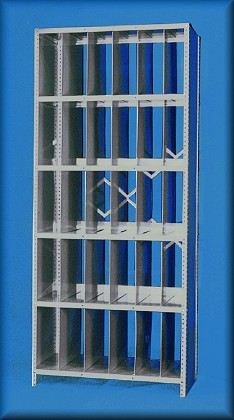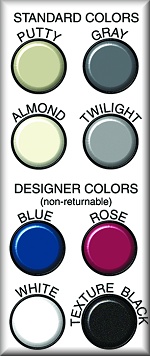 UNASSEMBLED X-RAY FILE CABINETS
Ideal alternative where pre-assembled cabinets may be too large for delivery or installation.
Unassembled cabinets save on motor freight costs.
Assembles with nuts and bolts (included).
2-Piece solid side panels for each side.
Rear sway braces provided for extra support.
Includes file-stops to prevent folders from sliding out the back side.
When assembled, dividers are 6" (153mm) apart.
When assembled, 15-3/8" vertical shelf clearance.
| | | | |
| --- | --- | --- | --- |
| Stock # | Dimensions | Ship.Wt.ea | Your Price |
| 705/1-4 | 24" x 18" x 84"h (610 x 457 x 2140mm) | 180 lbs. (85.5 kg) | $466.29 |
| 705/5-9 | " | " | $454.29 |
| 705/10-19 | " | " | $445.71 |
| 705/20+ | " | " | $437.14 |
| 715/1-4 | 36" x 18" x 84"h (914 x 457 x 2140mm) | 225 lbs. (108 kg) | $560.57 |
| 715/5-9 | " | " | $550.29 |
| 715/10-19 | " | " | $540.00 |
| 715/20+ | " | " | $529.71 |
| 725/1-4 | 48" x 18" x 84"h (1219 x 457 x 2140mm) | 255 lbs. (134 kg) | $737.14 |
| 725/5-9 | " | " | $723.43 |
| 725/10-19 | " | " | $706.29 |
| 725/20+ | " | " | $692.57 |