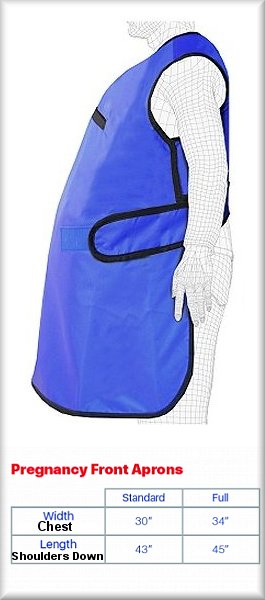 Radiation Protection for Special Circumstances

Special Protection for Fetal Care


Front Protection and flexible back with Hook and Loop Adjustable Closure.
Separate 22" x 24" pregnancy panel included inside. (Inserted inside a kangaroo 'pouch').
At completion of pregnancy the "panel" can be removed, leaving you with a standard Flex-Guard Apron with 0.50mm Pb equivalency protection.
1.0mm Pb equivalency over fetal area, 0.50mm over remaining area.
Pocket: Reinforced welt, spacious and strong.
FREE Dual Pockets.
Shoulder Pads: Concealed for comfort and durability.
2-Year Warranty on materials and workmanship
Custom sizes available in a variety of styles and sizes.
Free 1st line of embroidery.
NOTE: Use EMS for stock number for optional shoulder strap.

BACK DETAILS:

Compliments the Front Apron for fuller protection.
0.25mm Pb Equivalency.
1" Buckle closure (long enough to tie) in front.
Use separate Stock number for "back panel only" (shown in Teal color), see price table below.

Introducing SUPER LIGHT.....LMG = LEAN, MEAN & GREEN!

All New Lead-Free Protection:
Lean on weight (over 45% lighter than regular lead)
Mean on protection (protects as well as lead)
Green on the environment lead-free means eco-friendly)

Front Panel Sizes
Regular Size: (24" x 36")
Tall Size: (24" x 40")

NOW available in "Full" Size: 28" x 38"

Do You Need a Thyroid Collar, Eyewear, Carry Bag, Cleaner/Sanitizer Sprays, or Storage Rack to go with this apron?


Lead Protection
Type

Piece

Closure Type

Regular Size
24"wideX36"Tall

(Stock # / Your Price)

Tall Size
24"wideX40"Tall

(Stock # / Your Price)

FULL Size
28"wideX38"Tall

(Stock # / Your Price)

Light Weight

Front

Hook-and-Loop
Fastener

CGL-R / $Call

CGL-T / $Call

CGL-F / $Call

LMG (Lead Free)

Front

Hook-and-Loop
Fastener

CGG-R / $Call

CGG-T / $Call

CGG-F / $Call

Light Weight

Back Panel Only

Buckle

CBL-R / $Call

CBL-T / $Call

CBL-F / $Call

LMG (Lead Free)

Back Panel Only

Buckle

CBG-R / $Call

CBG-T / $Call

CBG-F / $Call