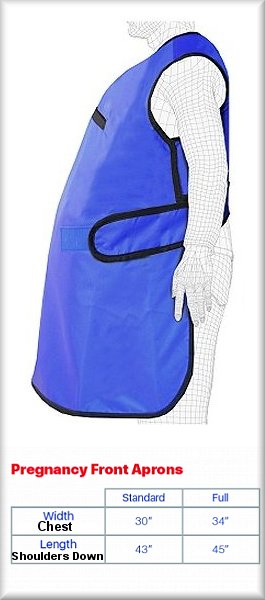 Radiation Protection for Special Circumstances

Special Protection for Fetal Care


Front Protection and flexible back with Hook and Loop Adjustable Closure.
Techno-Aide's new and improved EZ Pregnancy Front Protection Aprons offer premium protection to pregnant women! Featuring a revamped and upgraded design, and 1.0mm front protection for the fetus, our most popular protective apron style is now specially designed for pregnant women!

Panel Sizes
'Regular' Size:30" x 43"
Full Size: 43" x 45"

Do You Need a Thyroid Collar, Eyewear, Carry Bag, Cleaner/Sanitizer Sprays, or Storage Rack to go with this apron?


Lead Protection
Type

Closure Type

Standard Size
30"wideX43"Tall

(Stock # / Your Price)

FULL Size
34"wideX45"Tall

(Stock # / Your Price)

Light Weight

Hook-and-Loop
Fastener

PS-1L / $1,333.33

PT-1L / $1,600.00

Lead Free

Hook-and-Loop
Fastener

PS-1N / $1,666.67

PT-1N / $1,866.67