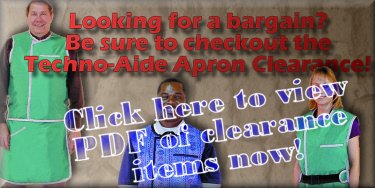 Radiation Protective Products
Please select the product group of your choice.
Aprons, Radiation Protective/Lead and Lead-Free/Lightweight (93)
92 different aprons styles from 7 separate quality manufactures to choose from.
Economy Frontal Protection Aprons with Buckles Frontal Protection Aprons with Tie's Frontal Protection Aprons with Hook and Loop Adjustable Fasteners Wrap-Arounds Half-Aprons Pediatric Vests/Skirt/Kilts Surgical Drop-Off's Weight Relievers Pregnancy Protection Dental PNWX Elite Techno-Aide Bar-Ray Biodex Infab Wolf Flow Apron Accessories

Pediatric Protection Products (12)
Radiation protective products intended for your small patients!
Bar-Ray's Pediatric Aprons Techno-Aide's Child-Guard Techno-Aide's Child Scolio-Guard Techno-Aide's Kiddie Kovers Techno-Aide's Breast Guard Techno-Aide Dental Drapes/Panoramic Dental Drapes Bar-Ray Pediatric Thyroid Collars Techno-Aide's Pediatric Thyroid Collars Bar-Ray's Pediatric Diapers and Gonad Shields Techno-Aide's Lap-Guard Techno-Aide's Gonadal Guard Bar-Ray's Pediatric Breast Shields

Apron & Glove Storage Racks/Hangers and Transportation Bags (4)
Many different ways to hang up your Lead Aprons, gloves and other protective apparel
Carry Bags Wall Mounted Racks Mobile Racks Closet Hangers

Equipment Shields: Fluoro Table/Cart Drapes/Sheet Blockers/Lead Curtains/Table Drapes (10)
Various Lead Vinyl Blocking and Shielding Products.
Mobile Barriers Lead Lined Storage Bins Full Sized Curtains Small Portable Curtains Fluoro Table Drapes Single Sheet Lead Vinyl Blockers

Personal Shields: Caps, Eyewear, Gloves, Gonad Shields, Leg Shields, Blankets (23)
Various shielding products typically used on the person to shield specific portions of the body beyond what a typical apron would cover.
Caps/Hats Glasses Goggles Medical/Surgical Loupes Face Shields Lens Care Gloves by Brand (6) Gonad Shields/Lead Blankets By Brand (5) Thyroid Collars Leg Shields

Construction Products: Leaded Doors/Sheetrock/Glass/Windows/Frames (3)
Lead lined, construction materials including shielding doors, windows, drywall and more.
Doors Sheetrock Glass/Windows/Frames
---
Please Note: All

offices will be closed Thursday & Friday, November 27th & 28th, 2014

for the extended US Thanksgiving Day Holiday weekend.
We will re-open, at 8am Pacific Standard Time, Monday, December 1st, 2014. Have a safe and happy holiday!
For order methods and policies, please click here.





E-Mail Sales

Telephone




Phone Lines open...

8am - 5pm Monday-Friday (Pacific/West Coast Time)

Toll-Free (US): 800-827-XRAY (800-827-9729)
Toll-Free (US): 866-PNW-XRAY (866-769-9729)
Skype: pnwxray
Phone: 1-503-667-3000

Download our order form
and then...Fax Your Order
24 Hours a day!
1-503-666-8855




P.O. Box 625 * Gresham, OR 97030 * U.S.A.
This web site is our catalog, no printed catalog is available. - Please keep checking back, changes to this site are made daily.
Every effort is made on our part to keep all posted prices up to date, however we can not guarantee the accuracy due to notification delays by the manufacturers.
Purchase Orders accepted only upon approval of credit - Min. $500 opening order for new open CHARGE accounts.
All other orders (Cash, Credit Card, etc) subject only to a $30 product minimum order!




©1997-2014 Pacific Northwest X-Ray Inc. - Sales & Marketing Division - All Rights Reserved